Among the many benefits of marijuana legalization is this: Colorado's cannabis industry is helping to keep some small towns above water.
Empire, Col., is one of these towns. With a population of roughly 400 and fewer than 10 businesses, Empire has been in decline for years. Three shops closed last year, said Town Trustee Richard Sprague, and sales tax revenue has dropped as a result.
"Towns like this live on sales taxes," Sprague said.
But two new businesses have started adding money back into Empire's coffers, and both of them are legal pot shops. Together, they contribute about $100,000 in sales tax annually.
Keeping Empire afloat
"We have two shops in town and thank goodness," Sprague said. "They're paying the sales tax and helping us stay afloat."
It's an aspect of cannabis law that hasn't been closely examined, but the thriving industry could give many struggling Colorado towns a chance to rebound. This is likely also true in Washington and Oregon, where shops are selling the drug, and in Alaska, where sales will begin soon.
The prospect of a cannabis boom doesn't appeal to every small town resident or politician. But it's making a big difference for communities that have few other sources of revenue. Many of these towns, like Empire, are located in rural areas hit hard by the Great Recession.
"I took a building that was 140 years old, restored it during an economic downturn, gave local people jobs, and started a local sales tax stream," said Dan Volpe, who owns the Serene Wellness dispensary in Empire.
Volpe, who also owns the other cannabis shop in town, said he was welcomed to the community when he opened shop six years ago. Since that time, he has generated a steady stream of tax revenue.
"I really wanted to make sure we made this town appealing," he said.
Dispensaries are an asset to the town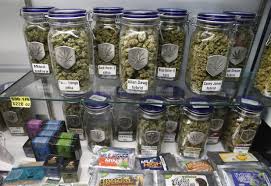 Local officials agree that Volpe's shops are a key addition to a down-and-out town. Without them, Empire might not be able to survive as a community.
"If we were to lose (the dispensaries) on top of everything else, we may not have anyone doing maintenance in this town," Sprague said. "It may be strictly volunteer."
Empire is located in the Rocky Mountains west of Denver. Pot shops can thrive in this environment, as tourists seek marijuana on their way to vacations in the mountains. Dispensary licenses are hard to come by in these places, given the competition.
"There's no doubt there's a noticeable benefit to any town's sales tax revenue when they allow for the legal market," said Lauren Harris, owner of Dynama Consulting, a Colorado cannabis consulting firm. "I think there are several reasons shops are moving into small towns: regulations are more lax, less competition, cheaper to get into the market."
While the tax dollars are a big gain for towns like Empire, these communities also offer an ideal business environment for dispensaries. Volpe noted the relationship goes both ways.
"Overall it's really amazing, and to be honest with you, it's a little bit of a heavy responsibility to really feel we have so many dependent on what we do," he said.
—
What do you think? Is it a good thing small towns are dependent on marijuana businesses? Comment below.