Former NBA star Cliff "Uncle Cliffy" Robinson has moved on from his basketball days, but he's found a new passion: the marijuana industry.
Robinson, best known for his playing days at the University of Connecticut, plans to open a grow operation in Oregon soon. Dates aren't set in stone, but the business already has a website with a marijuana leaf and a notice the rest of the site is "Coming Soon." Robinson says the farm should produce a harvest by 2017.
The business is registered under the name "Uncle Spliffy," a cannabis-themed take on his basketball nickname. It will open in Portland, Ore., funded by a small group of marijuana investors. Marijuana is legal for any adult use in Oregon, as it is in Colorado, Washington State, Alaska, and the District of Columbia.
Legalization took effect in Oregon last summer, while the drug first went on sale at licensed medical marijuana dispensaries across the state in October. The first shops selling cannabis only for recreation will open sometime after June.
Robinson advocates for medical marijuana and recreational legalization
Robinson is a passionate advocate for legal weed. He was suspended over cannabis use twice in his career with the NBA, and now he is pushing for medical access and full recreational legalization. He is scheduled to deliver the keynote speech at the Cannabis Collaborative Conference in February as a "cannabis advocate," the website explains.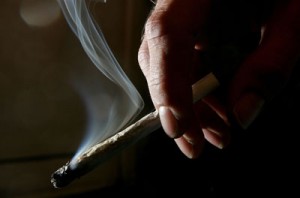 "People in Oregon know me as a basketball player," said Robinson, who played for five NBA teams, including the Portland Trail Blazers. "But I want to distill the stigma around cannabis, the misperception that athletes and cannabis are incompatible."
Robinson is an exception to the usual rule that professional and college athletes face professional ruin if they advocate for marijuana use. Every pro sports league but the NHL bans pot use for any reason, as does the NCAA, where he led Connecticut to the NIT championship in 1988.
Excessive penalties for marijuana use
It's time for leagues to remove penalties for cannabis use, Robinson said. Those sanctions can be severe, including multiple-game and even season-long suspensions.
"When you talk about guys playing a professional level, there's a lot of physical and mental stress that comes with that," he said. "To have something available to you that has health benefits, I don't see the issue with it myself."
Robinson has been outspoken about politics and social issues since he retired. He joined the cast of "Survivor" in 2014 and teamed up with Dennis Rodman in a failed and controversial attempt to broker a diplomatic settlement to the Korean conflict. The two players played for dictator Kim Jong Un on his birthday.