View the marijuana laws in your state.
Legal weed has finally arrived in Washington.
Months behind schedule, the first two dozen pot shops opened across the state July 8, marking the second time this year that a retail cannabis market has gone on-line. The first recreational marijuana stores in the country opened in Colorado Jan. 1.
Business there has been quiet but plentiful, with no major problems. State residents still strongly support legalization, and few think it has made the state a worse place to live.
But the situation in Washington isn't so pretty, and observers predicted a few problems opening day. The first retail licenses were awarded the day before, July 7, to 24 shop owners in a handful of communities across Washington.
Washingtonians and visitors lined up for hours to get a pick of the first legal pot in the state. Caden Robinson, a Seattle college student, told The New York Times his father encouraged him to get in line. Otherwise, Robinson said, he probably would have stuck with his black market dealer.
"My dad said I should come," said Robinson, a chemistry and chemical engineering major at the University of Puget Sound in Tacoma. "'Go make history.'"
Robinson showed up for opening day with his friend, Mark Rupprecht, who said he came to be part of the moment. "Something to tell my grandkids," he said.
Industry insiders predicted marijuana shortages on the first day, saying farmers hadn't had enough time to harvest a full crop. As on opening day in Colorado, lines were long but patient.
Voters in Washington legalized recreational weed in the 2012 election, as did Coloradans. But the two states took very different bureaucratic approaches to legal pot.
In Colorado, things moved quickly and efficiently. Officials closed the first round of licenses to existing medical marijuana dispensaries, encouraging the industry to build on experience. And the state imposed a relatively moderate tax on dope.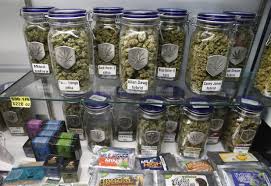 In Washington, by comparison, the market was opened to any comers at the start. That made for a more difficult, slower application process. Also, the state's new tax on marijuana is much higher than Colorado's, adding 44 percent onto the cost of the drug for consumers.
That may destroy the appeal of legal weed for many people. According to The Times, few of the people gathered outside pot shops came because they wanted cannabis; most just wanted to be a part of history.
If the state's leaders don't fix the tax problem or make more marijuana available in more places, shops could have a hard time attracting customers. If pot is cheaper on the black market, and easier to get, that is likely where people will go to buy it. Possession of the weed is legal, regardless of where it comes from.