A former agent with the Transportation and Safety Administration (TSA) has been charged with taking a bribe to let smugglers carry marijuana past airport security checkpoints.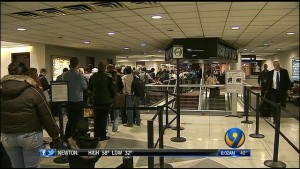 Deondre Smith, a 33-year-old resident of South Los Angeles, was arrested in October and charged with bribery of a public official and conspiracy to distribute cannabis. He could face as many as 20 years in prison on the federal charges, both felonies.
Authorities at the U.S. attorney's office for Southern California say Smith worked with a team of co-conspirators to move large amounts of marijuana through security checkpoints on flights bound for North Carolina. He ensured the bags of cannabis made it past screening undetected by other agents, authorities said.
Agent accepted payments to facilitate smuggling operation
Smith allegedly took payments of at least $500 in exchange for helping, prosecutors said. The smuggling operation involved at least nine incidents between 2009 and 2010, they said. In each case, Smith allegedly helped conceal a shipment of cannabis at a checkpoint.
The indictments against Smith were handed up Oct. 16. The conspiracy charges carry a maximum five-year sentence, while the maximum penalty for bribery is 15 years. The flights were all headed for Charlotte Douglas International Airport in Charlotte, N.C., where authorities said the drugs were sold on the street.
"Knowing that the luggage contained marijuana, Smith would temporarily take possession of the luggage from the other co-conspirators and either personally escort the luggage through LAX baggage screen checkpoints, or deliver the luggage to make sure the baggage containing marijuana passed through security," the indictment read.
Each of the other alleged co-conspirators has already pleaded guilty to drug charges as part of the investigation. Officials said they take a dim view of federal agents who help drug traffickers.
"I expect all federal employees to meet the high standards of ethical behavior," said U.S. Attorney Eileen Decker. "Any acceptance of bribes to influence official conduct will not be tolerated. It is particularly serious when the employee knowingly assisted in the commission of a serious criminal offense."
The TSA's existing marijuana problem
The TSA is already in a tight spot with marijuana issues. With cannabis now legal in four states, at least one major airport is allowing passengers to fly with the drug, as long as they don't carry it on flights that cross state lines or leave the country. The TSA has no official nationwide policy on the matter, leading to a confusing patchwork of strictly local airport rules.
Portland International Airport, for example, allows travelers to carry cannabis on in-state flights, while some other Oregon airports do not. But any attempt to smuggle marijuana aboard a flight between states is a federal crime, which means even passengers flying to other states with legalization are not allowed to carry the drug.