Canada may legalize marijuana next year, but authorities aren't going light on dispensaries that sell the drug in the meantime.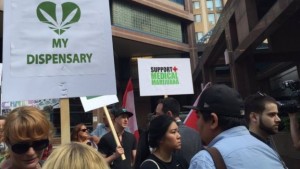 Longtime cannabis activists complained after police in Toronto shuttered dozens of medical marijuana shops officials said were operating illegally and arrested nearly 100 people. The drug is legal for medical use anywhere in the country, but only licensed businesses are allowed to grow and sell it.
Still, reformers noted the raids were a waste of police time, money, and other resources. Law enforcement authorities closed 43 Toronto stores and made 90 arrests, according to the BBC.
Canada set to legalize marijuana nationwide in 2017
The country is rapidly heading toward full legalization: The Liberal government of Prime Minister Justin Trudeau promised after the party's landslide win last year that Parliament would make pot legal for recreational use by all adults.
Reform advocates gathered outside Toronto police headquarters after the busts in May, saying the closed shops were an essential part of medical marijuana access in Canada's largest city. Protesters carried signs that read "Save Our Dispensaries" and "Bad Laws, Bad Cops."
Cracking down on dispensaries selling for recreation
Police Chief Mark Saunders announced the raids during a news conference at which he was heckled by protesters. He said the crackdown was focused on unlicensed businesses believed to be selling cannabis for recreation.
Saunders said the shops were part of a total of 83 known to be operating in the city without retail licenses. The raids resulted from "significant complaints" from neighbors and other community members, he said. The busts netted 270 kilograms of marijuana bud and a large number of edibles.
Mislabelled products
Among other violations, Saunders said, the targeted stores were selling products with "inaccurate information" about THC content, something he called a "genuine health concern."
"It's a danger that you don't know where the [pot] is coming from," he said.
Canada's medical marijuana system is complicated, making it difficult for dispensaries to operate above-board. The drug is legal for adult medical use nationwide, thanks to a court ruling from the early 2000s, but the country's health department, Health Canada, only licenses certain vendors that ship their product – often sub-quality – by mail.
Limited MMJ licenses
"Knowingly selling without a license issued by Health Canada is unlawful," Saunders said following the raids. "You can't be doing it."
That means dispensaries like the ones in Toronto may all technically be illegal. And the gray area may not have a resolution until cannabis is legalized completely, something Trudeau has promised will happen in 2017.
Canada is on track to become the first major world power to legalize marijuana for recreational use. Uruguay has already done so, as have four U.S. States and the District of Columbia, but no leading country has yet legalized.
Protesters at the May news conference demanded that Saunders explain the raids in light of the likelihood marijuana will soon be legal. "Where are the victims?" one protester shouted.
"I don't want to disrupt anyone getting legal access to medical marijuana," Saunders said. "You keep asking questions, but you don't really want answers."