Two right-wing states that neighbor Colorado have sued to overturn that state's legal marijuana policy.
The attorneys general of Oklahoma and Nebraska sued Colorado officials at the U.S. Supreme Court shortly before Christmas. The suit went directly to the Supreme Court because it involves a dispute between states.
The officials in Nebraska and Oklahoma claim legal weed is pouring over the border in massive amounts, despite empirical evidence proving the contrary. The attorneys general are hoping to overturn one of two key elements of the 2012 law that legalized weed in Colorado.
The first component of the law legalized marijuana consumption and possession while the second legalized cultivation and retail sale. The officials in Oklahoma and Nebraska are asking the Supreme Court to overturn the second provision.
If the Court rules for those two states, in other words, Coloradans would still be able to own and use pot. But there would be no legal industry to serve them, since the attorneys general argue Colorado's policy violates federal anti-drug law.
An opportunity for the black market
That could mean a return of the black market and all the violence that comes with it.
"If Nebraska and Oklahoma succeed, they will put the violent criminal organizations back in charge," said Michael Elliott, executive director of the Marijuana Industry Group, a Colorado trade group.
Colorado officials, meanwhile, vowed to fight the court challenge. The state's Republican attorney general, John Suthers, opposed the 2012 ballot initiative but said he would defend the law "vigorously." Suthers said the lawsuit is "without merit."
The case could have massive implications for the future of reform in the United States. If individual states such as Oklahoma or Nebraska can defeat legalization in other states, legalization could be dead for decades to come.
A dispute between states
The suit involves a dispute between states, but it ultimately centers on federal law. Marijuana is currently legal in Colorado and Washington State, while Oregon and Alaska approved legalization in November. Washington, D.C., also legalized, but that public vote is in serious political jeopardy.
But cannabis remains illegal under the federal Controlled Substances Act, and that's the basis for the suit. This means the federal government, and potentially the Supreme Court, has the power to stop legalization in its tracks.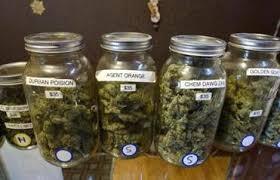 The justices may look for an easy out, as they have done with gay marriage. If they can find a procedural reason to dismiss the case without ruling on its merits, they may do so. Then again, if the conservative justices hold sway, the Court could issue a landmark ruling ending state-legal legalization.
Of course, it's also possible the justices could issue a landmark ruling that legalizes cannabis across the country. But right now, not even the most hopeful advocates expect that result.