Another prominent college football player was busted for weed this month.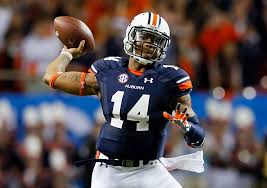 Auburn quarterback Nick Marshall was cited in Reynolds, Ga., July 11 for misdemeanor possession of a small amount of marijuana. Police pulled him over because his window tinting didn't meet legal requirements.
The officer allegedly smelled marijuana during the traffic stop and searched the car. The officer found less than 10 grams under the passenger-side visor, police said. Marshall wasn't arrested because the cannabis was less than an ounce.
Auburn Coach Gus Malzahn responded to the incident July 12, saying he was "aware of the situation that happened earlier today with Nick. I'm very disappointed and I will address it with him accordingly."
Marshall is a senior and one of the best dual-threat quarterbacks in the country. He led Auburn University to the SEC conference championship in 2013, and he finished last season with 26 touchdowns, 1,068 rushing yards, and 1,976 passing yards.
Marshall was dismissed from the University of Georgia football program after his freshman year over an unspecified violation of team rules. He moved to Kansas to play one season with Garden City Community College, and then returned to Georgia to play for Auburn.
Marijuana citations have become increasingly common in college and professional football. Social acceptance of the drug has changed radically, but athletic officials remain set in their ways. Violations of anti-cannabis rules can bring major penalties, including long suspensions.
The NCAA imposes a six-month suspension on players whose drug tests are positive for weed. That was recently reduced from a full-year suspension. As any player knows, a college career can collapse within a six-month period.
At Auburn, players must report pot arrests and other drug-related incidents "immediately" or face additional sanctions.
Police fined Marshall $1,000 for the marijuana charge, plus $100 for the tinted window. If he pays those fines, he won't have to show up for his court date, Sept. 10.