View the marijuana laws in your state.
Another day, another poll showing most Americans want to legalize marijuana for personal use.
The newest survey, released in April by CBS News, found about 53 percent of U.S. voters support the legalization of cannabis for recreational use. Much larger majorities back medical marijuana reform.
The poll's finding is roughly in line with the results of other surveys released in recent weeks. A Pew Research Center poll, also published in April, similarly found that 53 percent of American's back legalization.
Recent polls agree; American's want legalization
These numbers are up only slightly from last year, but they strengthen the perception that cannabis reform has reached a tipping point. If that perception is right, nearly eight decades of marijuana prohibition could fall within the next few years.
Taken together, the polls suggest support for recreational reform has solidified at slightly more than 50 percent of the American electorate. And there is no reason to think it won't continue to grow.
The CBS News poll found most men want to legalize while women are divided on the issue, nearly 50-50. The strongest support comes from self-identified liberals and younger voters, primarily Millennials, who back the idea by more than 70 percent in some other polls. Older voters are less likely to back legalization, the poll found.
Alcohol is more harmful than cannabis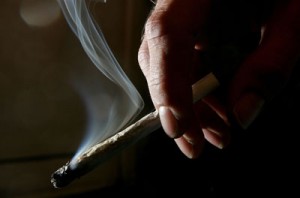 Most Americans, roughly 51 percent, said they believe alcohol consumption is more dangerous than cannabis, a view backed by scientists. Meanwhile, just 12 percent said marijuana is more dangerous. Those results correspond with a poll released last April, which found Americans believe cannabis is less dangerous than alcohol, tobacco, and even sugar.
The largest margin of support for reform was measured in 2013, when a Gallup poll found 58 percent of voters favored legalization. Another Gallup survey the next year found only 51 percent support, but that organization is known for the poor accuracy of its polls.
Cannabis is now legal in four states – Oregon, Alaska, Washington, and Colorado – and the District of Columbia. That means adults in those places are free to buy, possess, and use marijuana in small amounts without threat of legal penalties.
In Oregon, Alaska, Washington State, and Colorado, the law also allows a retail industry to grow, process, and sell cannabis. Washington, D.C., may enact a similar system, but that remains to be seen.
Pegging the exact level of support for a social cause can be difficult, given the countless opinion polls on almost any subject. But across the most recent surveys, backing for legal marijuana seems to be hovering between 50 percent and 55 percent. And that's entirely good news for marijuana and the people who love it.