View the marijuana laws in your state.
If there's one thing the marijuana community loves (aside from marijuana), it's a good trade show. Cannabis expos have exploded in recent years, playing a critical role in political reform and introducing stoners to some of the best products available.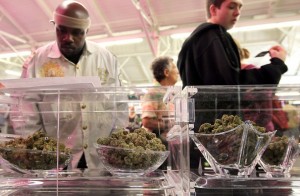 The big ones are legend: The Cannabis Cup, HempFest, the Emerald Cup, all draw some of the best talent and product in the business. There are major expos almost everywhere that marijuana is legal, with the possible exception of Alaska.
Colorado hosts the premier American event by High Times, the Denver Cannabis Cup. Seattle is home to HempFest. Even in California, where marijuana remains illegal for personal use, large marijuana-oriented gatherings are common up and down the coast.
But there are trade shows that are less well-known to the general public, such as the Cannabis World Congress & Business Exposition in Los Angeles, or the Great Midwest Marijuana Harvest Fest in Wisconsin – where cannabis possession remains a crime. As these festivals grow, more will come.
What to expect at a cannabis convention
What's in store for the average expo-goer? It depends largely on the setting and local laws. At a Cannabis Cup convention in Colorado for example, you're free to buy and sample product as long as you're an adult.
It's a little harder to light up if you're in California or another state without legalization. There, you usually have to have proof that you're a medical patient. That's easy to get, but it does add a layer of hassle to the experience.
Most expos celebrate a particular aspect of the marijuana business. The Cannabis Cup pits the world's best strains against each other, HempFest is advertised as the world's biggest outdoor marijuana party, and the Emerald Cup focuses on organically grown cannabis.
Professional networking opportunities at the CWCB
On a smaller scale, the Cannabis World Congress expo is all about green business opportunities and industry networking. It's geared toward professionals and entrepreneurs, providing classes, exhibits, products, and services on everything from accounting to vaporizers.
Expos are a critical means for cannabis businesses to build cultivation, distribution, and retail networks. The legal marijuana industry is still very young, and the rush of new businesses means a need for large business-oriented gatherings.
Of course, many expos are also an excuse to use cannabis. Rules about where and when attendees can toke vary from festival to festival, and in some places consumption is strictly forbidden at public gatherings.
Expos first started appearing around the United States in larger numbers in the 2000s; there were already strain competitions in the Netherlands, but the adoption of medical marijuana in California in 1996 opened the door for expos here.
The next generation of marijuana festivals will likely come on the East Coast, where at least one state could legalize by next year. The area is mostly bereft of public cannabis events, aside from 420 parties and the like.
In the meantime, legal marijuana providers can find contacts, education, and business advice from the Cannabis World Congress, which meets Sept. 17 and 18, as well as other business-friendly expos.