View the marijuana laws in your state.
Marijuana is decidedly illegal everywhere within the State of South Dakota. It won't be for long.
A local tribe of Sioux Indians has announced plans to open the world's first marijuana resort, a party town complete with cannabis, alcohol, and gambling. Leaders of the Flandreaux Sioux Tribe hope to open their "cannabis bar" with a party New Year's Eve.
That would bring legal marijuana straight to the hostile heart of the Upper Midwest, a culturally conservative region whose voters mostly oppose legalization. Though the drug will remain illegal anywhere off the Flandreaux reservation, visitors will be allowed to buy small amounts – less than an eighth of an ounce – and use them inside what will essentially be a cannabis nightclub.
Marijuana purchases limited to small amounts
With no way to buy large amounts, smuggling should be difficult. And the tribe offers a 120-room hotel attached to its current casino, so tokers would be able to sleep off the marijuana before driving. Leaders hope the new club will include live music, arcade games, a dance club, a bar, food service, and eventually slot machines. Gambling is legal on the reservation.
"We want it to be an adult playground," said tribal President Anthony Reider. "There's nowhere else in America that has something like this."
The move comes after President Barack Obama issued directives allowing Indian reservations to legalize marijuana if they choose. Several have already showed interest in the idea, but the Flandreaux Sioux are the first to act on it.
Their decision poses unique problems for local politicians and law enforcement. Native American reservations are semi-sovereign territory, meaning they answer to the federal government through treaties but owe no legal obligation to their surrounding states.
Surrounding South Dakota and local police are apprehensive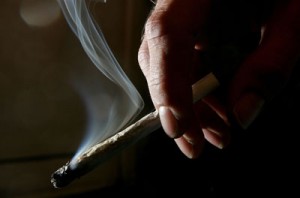 In other words, the Flandreaux Sioux can build a marijuana palace – and keep the tax proceeds for themselves. South Dakota politicians aren't happy about this. And police say they expect serious problems with impaired driving.
Whatever the weight of those arguments, it is clear legal cannabis is coming to a part of the country that mostly doesn't want it. This is very important, because once the drug is legally available, anywhere, it will be nearly impossible to go back. Legalization in Flandreaux ultimately means legalization in South Dakota, if only in a matter of years.
Indeed, the new marijuana club will sit in an ideal spot, located near two interstates and within a few hours driving distance of Omaha, Minneapolis, and Des Moines, all places where recreational cannabis is illegal. It could even prove a draw for tokers from as far away as Chicago.
Tribal leaders hope to get in on the market as fast as possible. As Reider noted, the first to a new market often walks away with the most business. Even when marijuana ultimately becomes legal in this part of the country, the Flandreaux Sioux will already have established themselves as a brand of entertainment – complete with cannabis, music, booze, food, and gambling.