An Iowa judge sentenced a medical marijuana patient to probation in early September, sparing the man a possible 15-year prison sentence.
Judge Henry Latham sentenced Benton Mackenzie, 48, to three years of probation so he can continue to receive medical care for his cancer. Mackenzie has angiosarcoma, a rare cancer that afflicts the blood vessels.
Latham issued Mackenzie a suspended 15-year sentence, meaning Mackenzie could be arrested and sent to prison if he violates the terms of his probation. Those terms include a requirement that he not use marijuana.
In other words, the court gave Mackenzie a brutal choice: Go to prison or stop using the cannabis that treats his cancer. Mackenzie is a legal medical marijuana patient in Oregon, and he flew there this summer to sample MMJ products.
"I have lasted seven years on a disease that takes people who don't get treated in two years," he said in court. "And people who go through the traditional methods, they last three years. So basically I have proven the decision I made was the right one, to save my life."
Mackenzie, who appeared before the judge in a wheelchair, said the law left him no choice. Pot has made some of his tumors vanish, and he feels he's justified in breaking laws that "take away my right guaranteed by the Constitution, to my life."
Mackenzie, his wife, and their 23-year-old son were arrested last year and charged with growing weed. His parents were also charged, since the pot was grown in their house, but the charges were later dropped.
Latham was expected to sentence Mackenzie's wife, Loretta Mackenzie, 43, and their son, Cody Mackenzie, soon.
Sheriff's deputies raided the house in June 2013 and said they found 71 plants, growing equipment, paraphernalia, and a small amount of cannabis.
During Mackenzie's trial, Latham repeatedly refused to let him testify about his cancer and the reasons he uses marijuana – even though he was rushed from the courtroom to the hospital during testimony. The judge said Iowa doesn't allow defendants to argue medical necessity.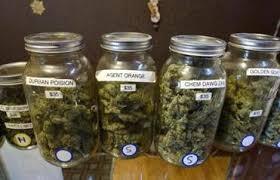 Mackenzie and his family were convicted of marijuana charges by a jury in July.
They were charged shortly before Iowa adopted a new medical marijuana law. A non-intoxicating form of cannabis is now allowed for treatment of severe epilepsy in children. But that law doesn't cover cancer, so it wouldn't have helped the Mackenzies.
Benton Mackenzie traveled to Oregon shortly after his conviction to receive treatment. Oregon is one of 23 states that permit medical marijuana, and it's the only state that allows out-of-state patients to toke. Now he may not be able to get the medicine he needs.