Iowa State University officials are appealing a ruling by a federal judge who said they violated the First Amendment when they barred a group of pro-cannabis students from using the school's logo on T-shirts.
The university's lawyers, who also represent President Steven Leath and three other administrators, are appealing a January order from a federal trial judge to the 8th U.S. Circuit Court of Appeals. They're appealing the ruling by U.S. District Judge James Gritzner, who issued a permanent injunction prohibiting the school from blocking the T-shirts with a trademark claim.
The shirts depicted the Iowa State mascot, Cy the Cardinal, along with a depiction of a marijuana leaf. Gitzner ruled that efforts by the school to stop the students put an undue burden on them and violated their rights to political expression under the First Amendment.
Federal judge ruled in favor of students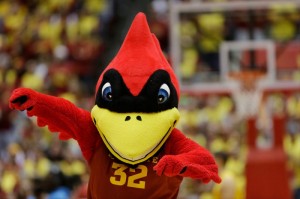 Gitzner's decision came in a lawsuit filed in 2014 by Erin Furleigh and Paul Gerlich, both former presidents of Iowa State's branch of NORML. School officials approved the shirts but later reversed that decision, Gerlich and Furleigh said, after conservative lawmakers and donors pressured the school to backtrack.
The university also withdrew its adviser to NORML and drafted new trademark rules specifically designed to stop the student group. The rules bar any use of university logos on products endorsing illegal drugs. Marijuana is illegal for any use in Iowa.
Iowa State University gave in to Republican pressure
The court agreed with Furleigh and Gerlich that the school caved to Republican pressure and expressly acted to prevent political speech. That type of expression is explicitly protected by the First Amendment and is usually afforded more deference than trademark laws.
Robert Corn-Revere, the attorney who represented the two former students in their marijuana lawsuit, said administrators denied NORML members their basic right to express a viewpoint that conflicts with that of the school.
"ISU's appeal to the Court of Appeals did not come as a surprise," Corn-Revere said. "We look forward to the appellate court confirming Judge Gritzner's well-reasoned holding that any reasonable public official would have understood that ISU's politically motivated actions toward NORML ISU violated the First Amendment."
University lawyers claim they have legal grounds
University lawyers mostly ignored the First Amendment claim and insisted they have a right to enforce their trademark – even if it interferes with the protected expression of students.
"It is our view that the U.S. Constitution and a recent U.S. Supreme Court decision give us discretion in permitting trademark use," said Iowa State spokesman John McCarroll. "We are appealing because we regard this as an important issue of law."
If the students win the appeal, they plan to seek damages from administrators, as well as court costs and attorneys' fees. If they lose they could appeal to the U.S. Supreme Court. Given the court's current composition, they would stand a good chance should the justices decide to take the case.
Gritzner's ruling, issued in January, was a setback not only for the school but for Leath and the other officials named in the suit. The judge ruled that the administrators could not claim qualified immunity, meaning they could be held personally liable for damages.
Qualified immunity protects public officials from lawsuits against them as individuals if they didn't violate clearly established law with which a reasonable person in their position would be familiar.
"A reasonable person in defendants' position would understand that their conduct, aimed at silencing political controversy associated with the group's political views, was unlawful under the circumstances," Gritzner said.