A bill that would have let U.S. military veterans use medical marijuana to treat their health conditions died in the House of Representatives in late April.
The law failed by a squeaker of a vote, 210 in favor and 213 against. That alone is a sign of the progress cannabis advocates are making before Congress. Lawmakers have already passed two bills protecting the rights of medical marijuana patients.
The new legislation would have allowed veterans to get their medical cannabis through the Veterans Administration. Currently, VA doctors are barred by federal law from recommending or prescribing the drug to veterans.
Instead, vets must see doctors outside the VA system if they want MMJ. That can be very expensive, and many sick veterans don't even know they could benefit from the drug. They won't get that information from their government doctors.
Lawmakers increasingly comfortable with MMJ
Rep. Earl Blumenauer, an Oregon Democrat, authored the bill and managed to shepherd it through committee. But while lawmakers are growing increasingly comfortable with the medicinal use of marijuana, they apparently haven't reached the point yet where they'll let a federal agency recommend it to patients.
Many of the millions of veterans in America suffer from diseases that could be helped by medicinal cannabis. That includes patients with post-traumatic stress disorder, a severe anxiety condition triggered by combat and other major trauma.
Recent studies have demonstrated that THC can be highly effective in treating these disorders. Yet many vets are instead stuck with powerful, hazardous, and addictive prescription drugs that can and sometimes do end their lives.
"While there is no single approach to aiding our nation's veterans, medical marijuana is proven to help in treating post-traumatic stress and traumatic brain injuries frequently suffered by veterans," Blumenauer said in a news release issued before the vote.
Medical marijuana available in 36 states
36 states now allow the use of some form of medical marijuana, including 13 that limit patients to a highly restrictive, non-intoxicating form of the drug known as CBD oil. But cannabis remains illegal for any use under federal law.
"States are listening to their residents on the benefits of medical marijuana, including veterans, and are changing their laws," Blumenauer said. "It is unacceptable for our wounded warriors to be forced out of the VA system to simply seek a recommendation on whether or not medical marijuana is a good treatment option."
Blumenauer has introduced similar legislation in the past. Last year, he fell 26 votes shy of success on the House floor. This year's margin of just three votes suggests the policy is likely to change within a year or two, as long as Blumenauer continues to push the issue.
DOJ insists on prosecuting medical marijuana providers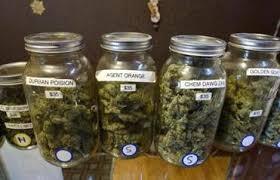 Recent laws designed to protect MMJ have run into trouble with the Department of Justice, which insists it still has the right to prosecute medical marijuana providers. Blumenauer and other lawmakers behind those laws say that's not true.
Michelle Leonhart, head of the DEA, recently submitted her resignation in the midst of a major agency scandal. She has been one of the biggest obstructionists standing in the way of MMJ, and Blumenauer has asked President Barack Obama to appoint a reformer in her place.
In a letter co-authored by Rep. Jared Polis, Democrat of Colorado, Blumenauer urged Obama to appoint a leader willing to end the DEA's "resistance to the changing public consensus on marijuana use and stop expending its limited resources to prosecute individuals who are not a threat to public safety. Instead, focus on drug activity that poses a more serious risk."
The bill, like one of those passed by Congress last year, would have worked by preventing any efforts to enforce rules that bar VA doctors from writing recommendations for medicinal cannabis. The legislation attracted broad bipartisan support, with 35 House Republicans voting yes. One Democrat, John Garamendi of California, said he voted no by mistake.