View the marijuana laws in your state.
Meanwhile, north of the border, a Canadian appellate court ruled Aug. 14 that the government can't bar medical marijuana patients from possessing edibles and other pot-laced products.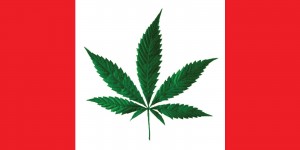 Medical cannabis is legal in Canada under court order. Members of the Conservative Party control the government and Parliament, and they're antagonistic toward marijuana reform.
Health Canada, the agency responsible for MMJ, currently bans patients from using any form of weed other than dried plant matter. Extracts, oils, food, topical creams, and other products are prohibited.
The rule is another in a long list of attempts by Conservatives to destroy medical marijuana in Canada. But they've repeatedly butted heads with the courts, which ruled in 2000 that access to medical weed is mandated by the nation's constitution.
Parliament has tried twice since to decriminalize the drug, and the opposition Liberal Party is openly discussing the wisdom of total legalization. But such efforts have been unsuccessful so far.
Instead, the Conservative government has tried to crack down on medical weed by restricting what patients can grow, what they can buy, and what form of it they can use. The government is openly hostile to MMJ and has tried to tar the Liberals as pot-happy hippies.
So far, though, the Conservatives have had few victories. They managed to consolidate the distribution market so patients must now buy from massive state-approved producers. But a court blocked them from enforcing a rule barring any home grows.
Now the ruling by Justice Risa Levine deals another blow to the anti-weed crowd. Levine said the rule against pot-infused products "is arbitrary and cannot be justified in a free and democratic society."
Patients who choose edibles or other products do so because they must, she said, "or, put another way, the restriction to dried marijuana interfered with their physical or psychological integrity."
The court case started five years ago, when British Columbia resident Owen Smith was charged with marijuana trafficking for making edibles and topical creams for an MMJ club in Victoria.
Police found Owen baking more than 200 weed cookies, and he had THC-infused cooking oils in his apartment. He also had dried pot.
But he was acquitted in 2012 after a ruling by the British Columbia Supreme Court that the government's ban on marijuana products is unconstitutional. Justice Robert Johnston called the rule arbitrary and said it didn't further a legitimate state interest. Thanks to Levine's ruling in August, Owen cannot be tried to again.
Officials at Health Canada issued a news release saying they were "reviewing the decision in detail and considering our options."